UNITED STATES TIME ZONES
The United States uses nine standard time zones. From east to west they are Atlantic Standard Time (AST), Eastern Standard Time (EST), Central Standard Time (CST), Mountain Standard Time (MST), Pacific Standard Time (PST), Alaskan Standard Time (AKST), Hawaii-Aleutian Standard Time (HST), Samoa standard time (UTC-11) and Chamorro Standard Time (UTC+10). View the standard time zone boundaries.
United States Time Zone Map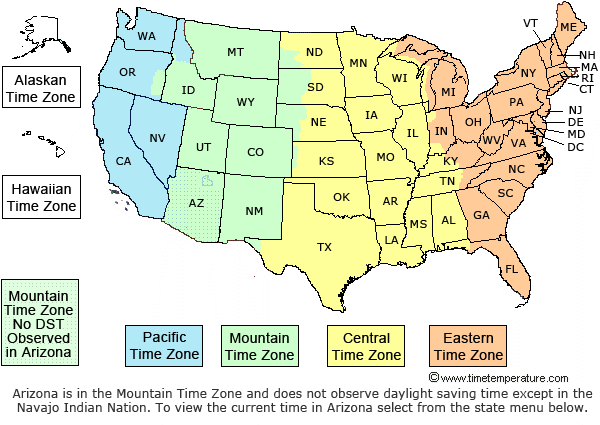 Hawaii Time
Alaska Time
Pacific Time
Mountain Time
Central Time
Eastern Time
Friday
1/24/2014
1:41pm
HST
Friday
1/24/2014
2:41pm
AKST
Friday
1/24/2014
3:41pm
PST
Friday
1/24/2014
4:41pm
MST
Friday
1/24/2014
5:41pm
CST
Friday
1/24/2014
6:41pm
EST
Now if you didn't know, now you know...
To see more did you know that trivia
click here